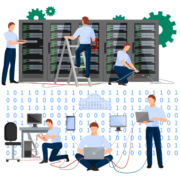 Managed IT Services are a proactive alternative to the standard break/fix arrangement regular Per-Incident support provides. Here at CNC Corporate IT services we have a vested interest in our Managed IT customers, working together with you to align to your desired technology outcomes and provide a service that minimises issues and keeps your business running smoothly.
We provide a tiered managed service that combines flat rates with software monitoring of IT workstations and infrastructure as well as Anti-Virus & Patch Management.
How can CNC Corporate IT's Managed IT Services help my business?
Pro-active IT support. We actively monitor & maintain the health of your computers, ensuring that things like Anti-Virus updates, Operating System & Software updates are installed, keeping your systems up-to-date & secure. Proactive maintenance has been proven to fix problems before they occur, increasing up time and ensuring your business stays online.
Comprehensive outsourced IT. Managed IT Services give you access to the wealth of experience and knowledge CNC Corporate IT Services have to offer. Think of it as not only day-to-day IT Support, but rather a complete IT department; here to help you strategically identify how IT fits within your organisation, and ensure you get the most out of your IT systems.
Predictable IT costs. Managed IT Services change the often-varied costs tied to Per-Incident support into the stable costs of proactive support, allowing your business to effectively budget and pay on a set schedule rather than face unexpected bills when tech problems occur.
CNC Corporate IT Services provide service you can trust. Are you an IT expert? We are staffed by IT professionals with years of experience across multiple IT based industries. Our Managed IT Services give you peace of mind by taking care of your IT so that you can focus on running & growing your business.
We work with you. CNC Corporate IT Services strive to ensure we go beyond for our customers. Our Managed IT Services minimise downtime, helping to improve efficiency and effectiveness within your business processes.
Why Pro-active instead of Re-active?
Minimize the chance of outages. Would you lose money if your office server were offline? Would your staff be able to work effectively or would you be paying them to sit around if their computer was offline? Now imagine those staff not meeting there deliverables, calculate your office hourly rate X the cost of those deliverables + the cost of repairing your IT equipment = a costly mistake that could have been avoided.
Return on Investment. In relative terms it is more cost effective to have your computer systems properly maintained than it is to replace everything one device at a time. Proper management increases the life span of your equipment and enables you to predict when equipment will need to be replaced.
Frequent checks on the health of your IT equipment. Why wait until your equipment fails completely before you replace it? It is far smarter to pre-empt this failure before it hurts your bottom line and negatively effects your business.
Business Continuity & Disaster Recovery. Proactive management of your backup strategies turn a potentially costly period of downtime into a planned course of recovery action with no uncertainty of outcome. Read more about the importance of properly maintained hands-off backup strategies we can supply.
Contact us today for a no-obligation quote