Business Continuity &
Disaster Recovery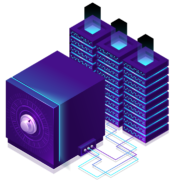 Could your business survive a ransomware attack? What about hardware failure? If your data was inaccessible for a period of time would your business suffer? Do you have confidence that your data is secure and your backups are up-to-date?If you've answered no or are unsure about any of the questions above we need to have a talk…
The 3-2-1 backup concept.
3 copies of your data
Production (Live version you work from) stored on server.
Backup stored nightly on NAS (Network Attached Storage) Box.
Backup stored nightly on a rotated USB Hard Disk.
2 media types
NAS box is configured with multiple hard disks acting as a RAID array (Redundant Array of Independent Devices) allowing for continued operation in the event of a single drive failure.
Rotated USB Hard Disk is changed over daily, nightly backups are to different drives.
1 backup offsite
USB Hard Disk is removed from site and kept offsite until returned to be updated by next disk rotation.
The above strategy is tried and tested, it's been used since portable USB storage became available in the mid 2000's. It's safe to say there are potential failure points in this strategy.The 3-2-1 strategy detailed above is an advancement over older tape based backup systems where the data stored on tape was removed from site and swapped daily, but still requires the swapping of USB Hard Disks (Daily/Weekly/Etc) and consistent management to ensure the drives are removed from and returned to the site. There is also the possibility of the Hard Disk being damaged, destroyed, lost in transit or stolen as well as the operator simply forgetting to return the unit to site to swap over.
We use 365 / Google Workplace, our Data is on the cloud, Microsoft / Google have backups don't they?
The 3-2-1 strategy also does not include data already stored offsite, examples of which are:
Data stored within Microsoft 365 (Outlook Online / SharePoint / OneDrive)
Data stored within Google Workspace (Gmail / Google Drive)
Cloud based Software as a Service solutions like these make sense in today's world, they're device agnostic, accessible from a web browser and have many benefits such as easy access to documents and improved collaboration. However many organisations incorrectly believe that backup of these services is no longer necessary. The reality is however that even data stored in the cloud is susceptible and as vulnerable as any other data stored locally to ransomware, accidental deletion or user error.Using Microsoft as an example, they provide the following:
Protection against loss of service due to hardware failure or natural disaster
Short-term protection against user and admin error (Recycle Bin, soft delete)
It is you as the customer that needs to protect against:
Accidental deletion
Hackers, ransomware, and other malware
Malicious insiders
Departing employees
That's why
Microsoft recommends third-party backup
in the Service Availability section of its Services Agreement. Read
Business IT's article posted on world backup day
or any news article on the issues
Channel Nine faced when they were hit with ransomware recently
to understand the importance of investment in Business Continuity & Disaster Recovery.
CNC Corporate IT Services can help
CNC Corporate IT Services leverages several technologies to protect against these risks. From dedicated onsite server and workstation backup solutions, to full Cloud Based backup strategies that can implement a 3-2-1 strategy without requiring swapping of disks or user intervention at all. Our products can backup your data already in the Cloud too, so that if the worst does happen we can assist and in most cases get you back up and running within 24 hours!
Contact us today for a no-obligation quote
We'll work with you to create a Business Continuity & Disaster Recovery plan, then implement and support it for you to ensure the protection of your data. Don't wait until it's too late, act today!​